Minute With Milliken
Sign up to receive our monthly blog.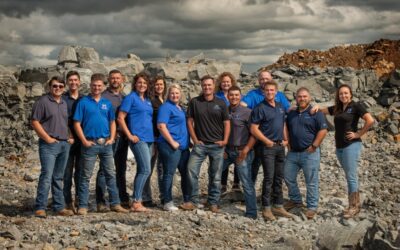 With Thanksgiving behind us and the holiday season ahead many things are crossing our minds. It may be holiday shopping or even decorating, but one thing that is definitely on all our minds this season is Family.So what does family mean to us here at the Milliken...
"Best concrete guys in the business! Many companies can do the work but few execute on all levels like the Milliken Company. From the dedication to do the job right and always given the customer what they want to going over the top with clean up and the finishing touches that really set them apart. If you need anything dealing with retaining walls or concrete work don't hesitate to give Tony and the guys a call you won't regret it!"
We had our driveway and retaining wall taken out, and a new laid-block retaining wall built, new driveway poured, and sidewalk poured to the front door. Also had the driveway sealed. Extremely pleased with the work ethic and professionalism of Trenton and the crews who did the job!! Very pleased!! Only 1 little hiccup, wanted chip mix treated like aggregate, got regular mix, but I said something quick enough, and the treated it like aggregate. It turned out just fine! We love it!
Couldn't be happier with Trenton's and Brian's expertise, personableness, and responsiveness. Until working with Milliken, I did not know that an asphalt curb for water diversion could look so good and be so effective. Thanks again!
We had Milliken add a sidewalk and an extension to our patio and I couldn't have been more pleased with the excellent work Brian and his coworkers did! They were very professional, on time, and completed everything in a timely manner. I highly recommend Milliken and their staff for any cement based needs you may have. The quality of their work is amazing!!
These guys are very professional through and through. They set the correct expectations from the start and made sure I was satisfied with the process as the job went on. They made sure they left the area picked up and clean when they left each day.. I would definitely use them again and recommend them to anyone who need concrete work large or small!
"Tony and his crew were faced with a huge driveway renovation at our residence. They removed over 2 dump trucks full of asphalt and installed a detailed and much larger concrete drive. Not only did they come in on time & on budget but it is the most beautiful concrete driveway I have seen in years. Sure, I might be a little biased because it is my driveway but it was no easy task and they pulled it off with ease. Thank you Tony & Team!"
I used Milliken to build a cement patio in the rear of my house. Devan came out to my house for the estimate and installation. Devan was professional, knowledgeable, and answered all of our questions. He always responded to every phone call or text message. I had problems with my HOA and Devan provided assistance to help obtain approval for the patio. The crew was professional when installing the patio and no damage to our lawn. I highly recommend Milliken Corp.
The Milliken team that repaved our drive was exceptional. The team was led by Devan who provided exceptional customer service. He answered every question before and during the paving process. And Devan and his team did not leave our home until they were sure we were satisfied with the work. I would highly recommend Milliken
The Milliken Corp. was the company I chose to do my driveway extension. After meeting with three contractors and got their estimates I chose Milliken because of price, quality and professionalism. They stayed in constant contact and kept me informed through every step through completion. I highly recommend this company for any of your concrete need.
We called Brian for an estimate on having our driveway extended. He came out the next business day to go over what we wanted. We had our quote that same day and were able to start work the following week once the weather cleared up. Everything was completed as promised and the mess completely cleaned up.
"Great work, prompt service and a fair price. Communication was outstanding keeping us informed thru the process from start to finish. Tony will go above and beyond to make sure the job is done
the right way.
Crew was on time, neat, and work diligently til the job is complete. Highly recommend!"
Milliken did a great job with our recent driveway paving. Trenton was professional and very comfortable to work with. Communication was on point from start to finish. Job execution and quality was exactly as it should be.
Milliken Corp's project manager Devon, and his crew, did a beautiful job, provided excellent communication, on-time and in budget. Excellent experience overall!
We had the BEST CUSTOMER SERVICE experience from the guys at Milliken Concrete! We had a bad experience with our insurance claim. We were without running water for 2 months waiting on our insurance company to approve the estimate quoted to us by Millikan. Throughout the 2 months our contact Greg Johnson was very courteous. He followed up with us throughout our whole ordeal to check on us. Our concrete repair was beautiful! I highly recommend Milliken to anyone. If we need concrete repairs again we will definitly contact Milliken Corp. Everyone that I was in contact with from Milliken were super nice and thorough.
The Milliken Corp. just repaved our driveway and Google doesn't offer enough stars to rate these guys. I'm in the home building business so I'm harder on contractors than most but Brian knocked it out of the park! This guy needs to write a book for up and coming project managers. As we all know, communication is the key to all great relationships and that is why this experience has been stellar. I never had to txt him, he always informed me before I had too. And as far as the driveway, it's absolutely beautiful!!! We couldn't be happier with these guys. I look forward to seeing where this company goes!